Steam Name: Advent MEC
Steam ID:
Profile Link:
Age: 17
How long have you been rping?: Too long
How did you find us?: I found screenshots and pressed on Satan and Piano until they told me
Have you been banned from Singularity Gaming?: Nope

_______________________________________________________________________________________________
Name: Fol'Xaerrel nar Sheebra
Age: Twenty Five
Species: Quarian
MOS (Military Occupational Specialty) : Rifleman
You do understand as this is a private server and you have filled out a Application you can be removed from the Server or have your Character taken away within reason at any moment: In my best OTA voice; "Affirmative".

Two Paragraph Backstory(For Returning players it is only one Paragraph), Five to Seven Sentences per Paragraph.

[[DISCLAIMER: IM NOT A QUARIAN EXPERT I JUST SPENT FIVE MINUTES READING THE WIKI SO THERE ARE BOUND TO BE MISTAKES MY BAD IM SHIT PLEASE DONT KILL ME]]

Fol'Xaerrel was born and raised on the Sheebra; part of the Migrant fleet. Like the rest of his kind, being raised post-Geth War, he would be flooded with anti-Geth propaganda and Quarian traditions from childhood onwards. Growing up amongst his people, he took a particular liking to the small detachment of Quarian marines stationed aboard. His upbringing was strict, uptight and gave him a general cynical look towards the outside world thanks to his peers and their attitudes.

Becoming of suitable age, Fol'Xaerrel began his pilgrimage after having his crewmates and peers see him off with the gifts they had provided. After some travelling, Fol'Xaerrel began working on the Citadel, finding his interests within the technological sector; moving amongst workplace to workplace to pick up new skills, experiences and most importantly; credits. Working until the attack on the Citadel, Fol'Xaerrel was evacuated alongside the rest until it was safe to return to work.

After a few years, Fol'Xaerrel would return to the Sheebra with the credits, experiences and items he had accumulated; successfully passing his pilgrimage. Giving his 'spoils' to his reunited crewmates, Fol'Xaerrel would pursue a career within the Quarian Marines; it being his ambition since he was a child. Learning from the rest of the Marines aboard the ship and through experience; Fol'Xaerrel joined the small detachment of keeping those aboard the Sheebra safe.

Fol'Xaerrel was tested during the Reaper war, where he assisted both during the battle for Rannoch and during the battle for London. Surviving through the battle, Fol'Xaerrel was commended for his actions like the rest of his race during their hardest trial yet. Rather than returning to the Migrant fleet; Fol'Xaerrel would be reassigned to the First Contact Task Force, knowing that his services would be of use there.

[[NOTE: IM NOT A QUARIAN EXPERT THIS IS MY FIRST QUARIAN EVER SO THERE MIGHT BE MISTAKES IM SORRY PLEASE DONT KILL ME]]
_________________
I don't wanna be that guy but...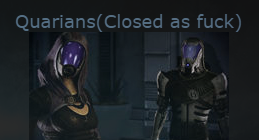 Xeria died yesterday so technically a slot should now be open.
Also from TS last night from what I could gather they were fine with me applying for it so ¯\_(ツ)_/¯

I could be a huge mong and have totally misunderstood but hell, I guess I'll get a boot up my ass if I misheard.
_________________
Someone dies and everyone tries to apply for the character. So rude.
_________________
Real talk, this guy knows what he's doing, and the app checks out. Standard riflemen are always good.
+support.
This guy is absolutely horrible. I wouldn't trust him with a guest nonetheless a character. Completely immature and doesn't know how to make a proper /me. I'm surprised hes even on this community.

+Support you glorious bastard



Posts

: 71


Join date

: 2016-03-21



I didn't read it.

+support anyway



Posts

: 30


Join date

: 2016-03-31


Age

: 24


Location

: THE LAND OF TEA



Another male quarian? WHY IS THIS NOT ACCEPTED!

P.S. Do it so Zar wont be so lonely



Posts

: 68


Join date

: 2016-03-17



You are absolutely accepted, rosters are being updated as I write this, pm me if you need the password.
Owner





Posts

: 272


Join date

: 2015-08-09





Similar topics
---
Permissions in this forum:
You
cannot
reply to topics in this forum