Authorization code entered, please wait for verification
...
...
...
...
...
...
Verification confirmed, welcome, [REDACTED]
Please standby
...
...
...
-WARNING-
ANY INFORMATION REGARDING DETAILS OF THE SSV LONDON AND IT'S EMPLOYEES ARE CONSIDERED CLASSIFIED. ANY SHARED INFORMATION IN CORRELATION TO THE LOCATIONS, NAMES, APPEARANCE, AND MISSIONS OF ITS PERSONNEL IS PUNISHABLE BY MILITARY LAW. ANY OFFENDER IS LIABLE TO BE TERMINATED BY SPEC-WAR III.
...
...
Displaying transfer file #984125
Xiale, Marz
Credit to myself for making the tarot card.
Meaning
...
---
General Information:Character Name:
Marz'Xiale vas Yormany
Nick/Pet-Names:
N/A
Gender:
Female
Homeworld:
Migrant Fleet, Shellen Vessel
Age:
29
Height:
5.7 Forearms
Weight:
127 Lbs
Hair Color:
Black
Eye Color:
Alabaster
Build:
Ectomorph
Demeanor:
Outgoing, Curious, Determined
Education:
Homeschooling - Quarian Equivalent
Birthcode:
663-368-1235
Birth Sign:
Scorpio
Alignment:
Lawful-Good
Affiliation:
SSV Anchorage Chief Engineer
Attributes:Strength:
9/20
On the frail side.
Dexterity:
15/20
Decent agility coupled with the ability to use smaller-calibre weapons.
Constitution:
8/20
Not particularly durable.
Intelligence:
12/20
Of decent intelligence, given her position as an engineer.
Wisdom:
7/20
Naive and inexperienced in the grittier workings of the galaxy.
Awareness:
13/20
Strong sense of vision, solid hearing. She tends to be aware of physical things, while verbal and other things can still manage to fly over her head.
Charisma:
10/20
Marz doesn't tend to attract people or drive them away.
Luck:
10/20
The cards are neither in nor out of her favor.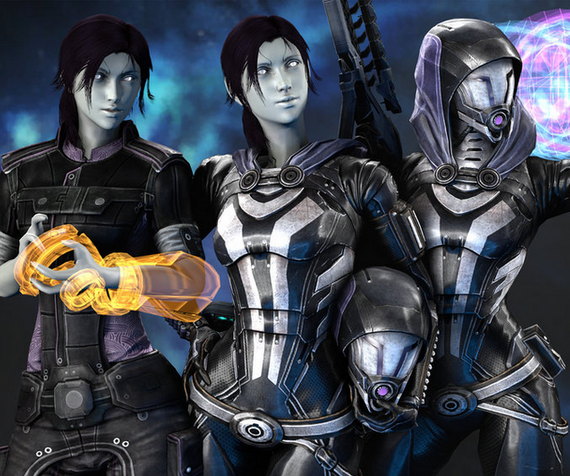 A Quick Consensus:
A curious and potentially naive muse doubled with a lacklustre fascination with machinery. With an outgoing look on life and the inexperience to accompany the title of a traveller, Marz finds herself out of touch with many other cultures whose social standings deviate from her norms. A stout of heart debauch and lover of small things, Marz looks at the world with curious interests at the heart of every sentiment and idealistic remark she makes. Though she's out of touch with other cultures and their normalcies, she's not unintelligent. She has common sense and nearly no derogation for learning. With a straightforward sense of handling her problems and a strong literal sense, she fancies herself a character interested in broadening her horizons in the interest of promoting relations with her kind. Not particularly subtle of nature, save for the stronger emotional stigmas, Marz does not find herself bound by the dogmas of the Quarian social hierarchy, and instead, makes an attempt to see the world in her own way.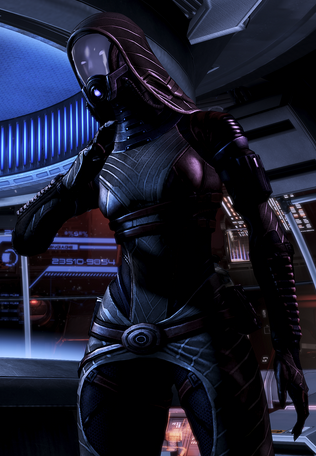 A younger Marz aboard the Yormany.
Character Traits:Tech-Savvy:
Be it machines or computers, Marz is particularly decent at her job as an engineer.
Determined:
Strong-willed with a head held high, Marz tends to see most things through till the end.
Curious:
For better or for worse, Marz has a curiosity that could be considered irrational at times. Never truly satiated with her yearning for knowledge, the Quarian finds herself ever-studious.
Poet-At-Heart:
Marz is many things, though her bearing a poet's heart seems to shine through more often than not. A debauch for art and music, Marz also tends to have strong emotional attachments to objects and other sentiments. This tends to occasionally lead to her chagrin, ignominious or not.
Emotionally Potent:
A slave to her passions, Marz tends to be impulsive and brash when she feels a certain way.
Raw Physical Power:
Being a scrawny Quarian has it's disadvantages. The raw physical aspects of it are one of them.
Six Unnecessary Facts:
i. Marz is an only-child.
ii. Marz has an adoration for opera.
iii. Marz is surprisingly good at slow-dancing.
iv. Marz originally wanted to be a doctor in her youth.
v. Marz is prone to becoming attached or overly-clingy to objects she holds dear.
vi. Marz is homesick.
Admired
|
Well-Respected /Exceptionally Good Friend
|
Friend
|
Acquaintance
|
Neutral
|
Mixed
|
Disliked
|
On The Shit-List
|
† = DeceasedJ. McCal
: "Without a doubt, my best friend. I'd probably be a lot worse-off without Jayce around."
Z. Saaris
: "Zaenna's still strange to me, despite the fact that she's quickly become someone I feel I can confide in. I wish I could understand her. I'm not sure if I ever will. Despite all-else, her strangeness tugs at something in me. While I'm not sure whether it's a good thing, or if I even like it, it's most certainly addicting."
A. Moonen
: "I think that the Commander is a fine man, perhaps one I may one day grow to appreciate as more than my superior. I could be wrong yet, but I feel like he has the potential to be good companion material."
J. Deag
: "An alien, a strange one at that. I find myself compelled to like him despite his overly-strangeness."
D. Villius
: "
Someone I wanted to dislike but found myself befriending. I find myself nearly envious of his track-record. I feel like I'm able to speak with him about certain things I could only ever talk to a handful of people about.
Gone. I'm afraid I'll never see him again."
G. Rumienstev
: "Combo's quite literally as dumb as a bag of bricks. But he's my bag of bricks. Ironically, I'd trust him to have my back in combat more than most other people."
E. Forestier
: "A human who seems particularly fond of complimenting me, and learning more about me incredibly early-on in our acquaintanceship. I'm not sure how I feel about it, but she strikes me as nice."
E. E. Bellfray
: "I don't have words to describe him. He's strange, but, for an alien, he's a lot like me."
S. Elspeth
: "A strange sort of alien. I'm not quite sure I understand her motives. She did me a big favor, I don't think she really even realized it."
M. Manaar
: "A fellow quarian enlisted with the taskforce. I intend to speak more with her in hopes that I'll be able to build my personal relations with her."
R. Arglack
: "He's a krogan. I'm not a big fan of their, but I think that this one is alright."
W. K. Brayton
: "Not as awful as I thought, not as cool as I thought either. My feelings for Billy are up and down, kind of like a roller-coaster. I'm afraid I may have unintentionally destroyed whatever chance at a friendship we had."
Last edited by Nazz on Wed May 11, 2016 2:37 am; edited 9 times in total
_________________
Add your boy, Jaspn McCal



Posts

: 59


Join date

: 2016-04-01


Age

: 21


Location

: Ireland



Made some more small updates. If I missed you, gimme' a shoutout.
_________________
_________________

---
Permissions in this forum:
You
cannot
reply to topics in this forum