VAULT USER NAME [STEAM USERNAME]
:  Crystallized0Rose
VAULT USER ID [STEAM ID]
:  STEAM_0:0:41069464
DO YOU UNDERSTAND THE OVERSEER'S WORD IS LAW AND WILL ALWAYS REMAIN SO?
:  Most certainly so
YOU DO UNDERSTAND YOUR VAULT MEMBERSHIP [CHARACTER] CAN BE REMOVED AT ANY TIME CORRECT?
:  Yes
TELL US SOMETHING ABOUT OUR GREAT COUNTRY!
:  The third post-apocalyptic president and leader of the Enclave during Fallout 3, John Henry Eden, was actually an AI imbibed with the memories of all previous presidents as well as a lot of history about America.
~~~~~~~~~~~~~~~~~~~~~~~~~~~~~~~~~~~~~~~~~~~~~~~~~~
YOUR NAME
:  Whitney II (Whitney-two or Whitney the second)
APPEARANCE
: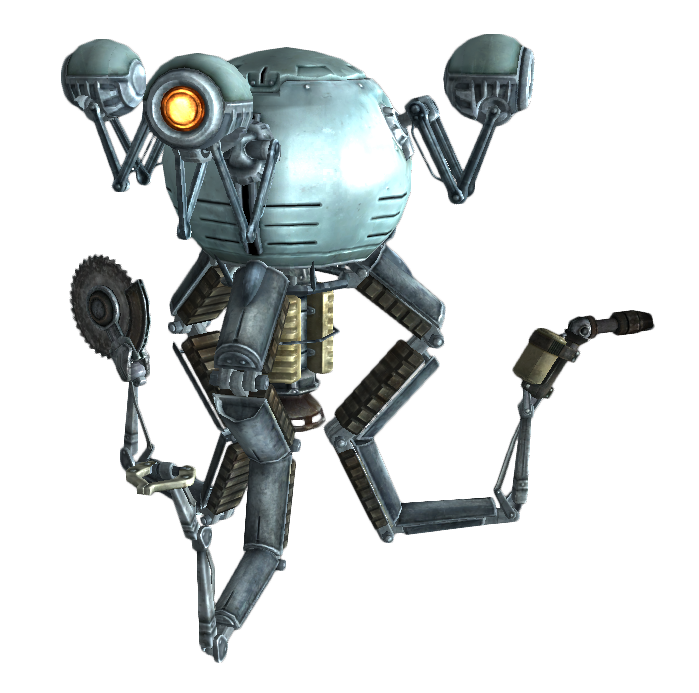 Just imagine a taser in place of the saw blade and you have Whitney II.
AGE
:  Built 164 years ago, activated in 2240 on [insert vault tenure termination date and time here]
PERSONALITY
:  With near-factory default settings, Whitney II is about as personable as a butler.  He even minds it when the vault dwellers get just a tad bit rowdy and will even try to break up birthday parties because he sees them as being 'too rambunctious a celebration'.  He's calm and dutiful, taking his responsibility for the safety of the vault inhabitants seriously--he will jump in front of anything dangerous if it means buying his people time to get to safety.
DESIRED OCCUPATION [WHY SHOULD YOU BE ACCEPTED?]
:  Security officer, which is Whitney II's primary programming.  He will be useful as a personal protection robot out in the Wasteland.
WHAT ARE YOU GOOD AT?
:  
Self-sufficient
; Whitney II is programmed with an abundance of subroutines that allow him to perform self-diagnostics and self maintenance when there are parts and materials readily available.  He also, when alone, tends to be able to keep his robotic sanity given the fact that he was only recently activated.
Tenacious
; As part of his programming, Whitney II closely adheres to rules and regulations regarding Vault protocol even when the tenants of the vault are no longer stationed in said vault.  He'd make a good chaperone at the very least.
Valiant
; Whitney II is readily available to put himself in harm's way if it means protecting the people of the vault, but he will also be smart about it.  This means that if there is an opportunity to save himself, as long as it doesn't sacrifice his people, he will take it.
WHAT COULD YOU BE BETTER AT?
:
Totally Hack-able/Exposed Core
; As with all Mister Handys, his defences are very weak in both the physical and programmable sense.  Whitney II's armor is thin and comparable to a bulletproof vest.  His is an easy-to-hack OS with readily-modifiable subroutines, and he is constantly subject to berserk if his core were ever damaged.
Oblivious
; Having only recently been activated, Whitney II knows nothing of the outside world.  This means he ended up being very ignorant of many things, especially things in the Wasteland--he'll be no encyclopedia on Deathclaws or the Enclave.
Bad Liar
; Whitney is no Bond, and probably couldn't tell a lie to save his chassis.  It should be handled with extreme care what information is given to this robot.
ANY MEDICAL CONDITIONS?
:  n/a
CURRENT EQUIPMENT
:  Mister Handy type 1 standard equipment including;
Optical sensors
Advanced communication device (multi-lingual)
Three arms (standard claw, flamethrower/extinguisher, and a taser in place of the saw)
Jet hovering unit and rechargeable nuclear power unit 238B
BACKSTORY [1-2 PARAGRAPHS MINIMUM 10-20 SENTENCES]
:  Being developed before the war, this Mister Handy unit was built in 2076 and intended to be housed in one of Vault-Tec's many famous vaults.  Due to a manifest error, Vault 127 ended up with two Mister Handy security units instead of one.  Rather than take the spare unit back to the warehouse to rot for a couple of months before being delivered to its intended residence, they decided to leave it locked in a maintenance closet to be used for spare parts or as a backup unit in case the primary unit failed.
Thankfully, the primary unit was able to do its job without any major incidents.  This meant that for the spare Handy, cordially named Whitney II, disassembly was never required.  But that also meant that activation was never required, either; and as the years passed the spare unit was mostly forgotten except for the quartermasters.  Even to them, he became something of a footnote in their inventory lists.
As if to attest to this forgotten status, when the primary unit was destroyed in a trash burner-related incident, Whitney II remained in his hibernation state and only recently has his activation been the subject of discussion as vault residents prepare to leave Vault 127.



Posts

: 170


Join date

: 2015-08-02


Age

: 26





Similar topics
---
Permissions in this forum:
You
cannot
reply to topics in this forum