Welcome to ROBCO Industries [TM] Termalink

Password Required

Attempts Remaining: ▬ ▬ ▬ ▬

*******
Property of VAULT-TEC Industries Vault 127
Revolutionizing safety for an uncertain future!
ROBCO INDUSTRIES UNIFIED OPERATING SYSTEM
COPYRIGHT 2075-2077 ROBCO INDUSTRIES
-SERVER #3-
>EDGEWATER DIGITAL NOTICE BOARD

>Inventory Manager

>Messages

>Music

>Games

>My Profile

...

>> Welcome to My Profile <<
BRIAN DOUGHTY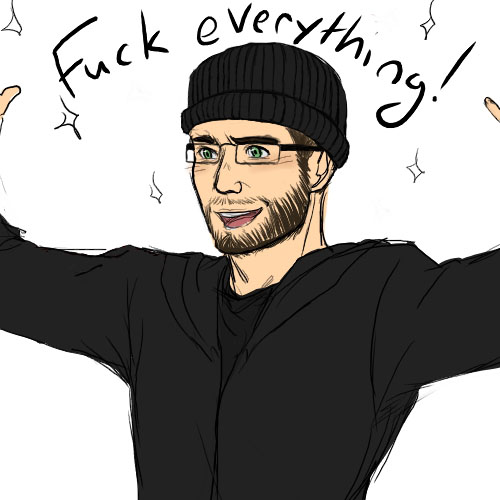 Music
- GENERAL INFORMATION -
FULL NAME: Brian Doughty
ALIAS': Dotty, Doughboy, Beanie-Boy
AGE: 21
GENDER: Male
HEIGHT: 5'7"
SKIN COLOR: Caucasian
HAIR COLOR: Dark Brown
EYE COLOR: Sky Blue
WEIGHT: 133
BUILD: Light Build
VOCAL SAMPLE:
Sample
(Jeff 'Joker' Moreau)
NOTABLE PHYSICAL FEATURES:
- Faded surgical scar running down the middle of his chest
-MEDICAL INFORMATION-
BLOOD TYPE: B-
MEDICAL CONDITIONS: Mild Depression
MEDICINE DEPENDENCIES: Anti-Depressants
-PERSONAL INFORMATION-
LIVING RELATIVES: N/A
NEXT OF KIN: N/A
ETHNICITY: American
G.O.A.T. APPLIED OCCUPATION: Vault Doctor
OCCUPATION: Vault Doctor
TRAINED SKILLS: First-Aid, CPR, Small Arms Use
-PERSONAL RELATIONS LOG-
-Affectionate-Friend-Liked-Neutral-Disliked-Hated-Loathed-
-Feared-Respected-
Julia Collins
"Julia... Julia is someone I care deeply about. Calm and collective, an absolute GREAT friend to have and... Jesus, I don't really feel like my words can do justice on how good of a person she is. I-... I like her. Probably a bit too much, heh, but... She's been there for me. When Brayton and Ayano weren't there, or Martin was busy with someone else, she was there... I'm glad to say I know someone like her, and I hope she'll still be there for me, despite now being the sherrif of the town."
William Brayton
"Brayton is like a brother to me. He can be a jackass, he's unsubtle as all hell about most things, and he pressures me to do shit usually... The shit he pressures me to do though, usually turns out for the better, so I don't particulary mind. Whenever he sets his mind on something, he's more than willing to see it to the end, no matter what obstacles are in his path... I wish he would fucking take time to let himself heal though, but that bastard doesn't know when to quit. He's someone who I can speak my mind to, and I have nothing but the up-most respect for this guy."
Ayano Naoko
"Jesus Christ, I've never seen a person who swears more than me and Brayton combined, but... Well, Ayano takes home the gold fucking star. Still, that doesn't mean she can't be a great friend, no matter how many times she'll call someone a faggot. Knows more about robots than anyone else, and she's a security guard- Or, was, before the Vault flooded... Still. She knows her stuff, and I'm glad to call her a friend."
Martin O'Donnell
"One of my collegues and a good friend from the vault, Martin's one of the two people I can get along with in the vault medical staff. He puts up with my bullshit half the time and helps me out whenever I need it, both on the job and off it. The guy knows more about medical than I do, so I usually come to him with stupid questions about it. Outside of work, he's a pretty chill person. Pretty good friend to have out here, espeically for his medical talent."
-EQUIPMENT-
>>
N99 10mm Pistol
<<
The N99 10mm Pistol was the standard sidearm for the vast majority of Uniformed Services in the United States at the time of the Great War, including most Vault-Tec Vault security details. The pistol replaced the earlier N80 10mm Pistol as the standard sidearm of the US Military, and was being phased out shortly before the Great War in favor of the Laser Pistol. The N99 was world renowned as being an incredibly rugged firearm, able to be restored to reliable working order with minimal maintenance after being exposed to weather conditions for an extended period of time. Julia's specific N99 is unremarkable to other pistols of the same model.
-RESIDENT HISTORY-
Brian Doughty was born on March 13th, 2229 with a slight heart defect to the loving couple of Jacob Doughty and Melissa Doughty. At the age of five months, he had Open-Heart Surgery at the age of five months to fix this issue. Because his mother was a nurse, she was able to take care of him before and after the surgery. When he was one and two years old, Brian usually was left alone in his family's quarters. His mother had to work at the infirmary while his father was part of the security team. He would always stay by the door, sometimes slapping his hands against it and crying out. Some speculated that he wanted to be with his parents, but in all reality, he wanted outside of his quarters. He didn't like being confined to one room for too long.
Brian's childhood was pretty uneventful. He went to school for most of the day and spent time with his mother at the infirmary as he watched her worked. When he wasn't with his mother, he was usually running around the vault, exploring places that weren't restricted. He was able to reach the vault door controls by the age of six, so nothing was going to stop him, save his father and some of the security team. As he grew older however, the vault became smaller and smaller to him. By the time he was fifteen, he was diagnosed with a case of mild depression and was prescribed antidepressants. He felt confined in the vault, as if it was too small for him.
When he took the GOAT at the age of sixteen, he was able to land himself the position of vault doctor. Before he took it however, his father gave him the dog tags of Chris Doughty, mainly because he thought it was time the dog tags were passed down. The other reason being that it could act as Brian's "good luck charm" when he takes the GOAT. After the test, he was able to work more with his mother and the medical staff, learning how to become a doctor. By the age of eighteen, he received his first pair of prescription glasses, his right eye having 20/200 vision. It is now 2240 and Brian is twenty-one. He would now be part of the medical staff, and although he knows most that he can, he is still learning to this day in the vault, hoping to better his skills as a doctor in Vault 127.
And remember, the Overseer is here for you! Vault-Tec has your best interest at heart!



Posts

: 19


Join date

: 2016-03-24


Age

: 21



Updated!

Added:
Julia
Brayton
Ayano
Martin

Don't be afraid to shout out your characters



Posts

: 19


Join date

: 2016-03-24


Age

: 21



_________________
"It would be easy to get lost up there, wouldn't it? To find someplace very far away, where you could spend the rest of your life in peace and happiness."



Posts

: 321


Join date

: 2015-06-10





Similar topics
---
Permissions in this forum:
You
cannot
reply to topics in this forum