Authorization code entered, please wait for verification
...
...
...
...
...
...
Verification confirmed, welcome, [REDACTED]
Please standby
...
...
...
-WARNING-
ANY INFORMATION REGARDING DETAILS OF THE SSV LONDON AND IT'S EMPLOYEES ARE CONSIDERED CLASSIFIED. ANY SHARED INFORMATION IN CORRELATION TO THE LOCATIONS, NAMES, APPEARANCE, AND MISSIONS OF ITS PERSONNEL IS PUNISHABLE BY MILITARY LAW. ANY OFFENDER IS LIABLE TO BE TERMINATED BY SPEC-WAR III.
...
...
Displaying transfer file #713068
Acilnian, Tiberius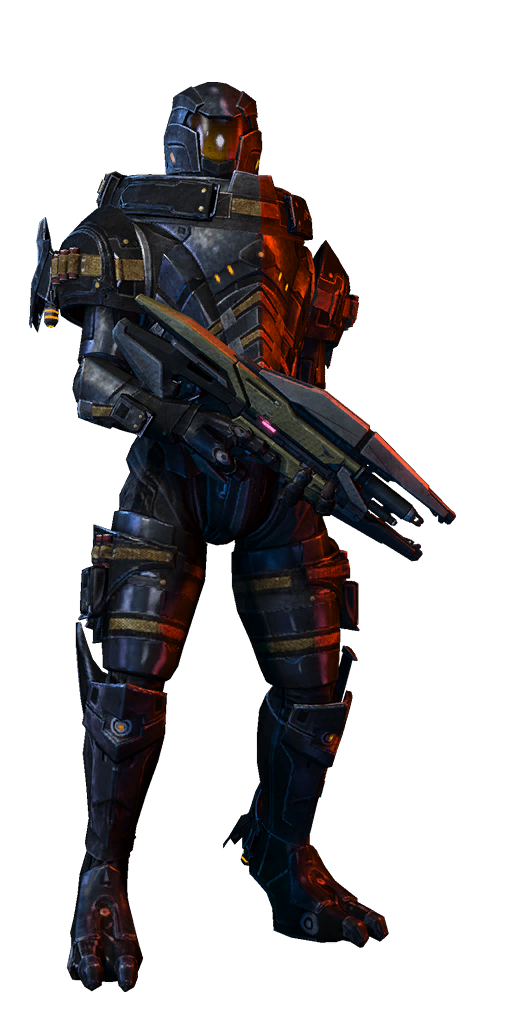 ...
---
General Information
Character Name:
Tiberius Acilnian 
Nick/Pet-Names:
Acil, Command and Conquer, Tiber. 
Gender:
Male 
Homeworld:
Palaven 
Age:
34 
Height:
Six foot seven 
Weight:
205 Ibls 
Facepaint:
White and Gray 
Eye Color:
Green 
Build:
Lean 
Demeanour:
Professional, sober 
Education:
Primary school, secondary school, Turian Military school. 
Alignment:
Lawful-Good 
Affiliation:
SSV London - Turian Marine - Infantry
Attributes:Strength:
14/20
Tiberius can tussle and do the hustle.
Dexterity:
11/20
Tiberius's hand to eye coordination is good.
Constitution:
12/20
It'll take a few to put Tiberius down.
Intelligence:
10/20
He know's what he knows.
Wisdom:
7/20
He isn't keen on wisdom.
Awareness:
11/20
Tiberius knows what to expect
Charisma:
11/20
He likes to meet and talk.
Luck:
8/20
What is luck?
A Quick Consensus:
Tiberius, the Turian known to have a deep voice and the drinking tastes of Sean Connery. Much like any Turian, Tiberius knows his limits and his strengths. He has the demeanour of any soldier really, but Tiberius knows when to relax and allow himself to have his own fun. Throughout Tiberius' military career, he has always made one thing certain to show not only his enemy but also his allies the truth behind you will never see a Turian's back until he is dead, stubbornly enough for Tiberius, he follows that saying as if it were the code of war.
Character TraitsProfessional:
Tiberius acts as if he is a soldier all the time, while letting it slip the odd time.
Loyal:
Tiberius is a loyal Turian, nothing can move his loyalties.
Agile:
Tiberius, much like the rest of his species, is quick and agile.
Honour:
Tiberius holds honour for his cause, for his beliefs and for his race.
Emotional:
He doesn't get emotional.
Feelings man:
He doesn't like to showcase his feelings.
"Always ready."
Vocal Sample
Voice of Sean Connery.
Without his helmet
Gear
Phaeston Assault Rifle
M-6 Carnifex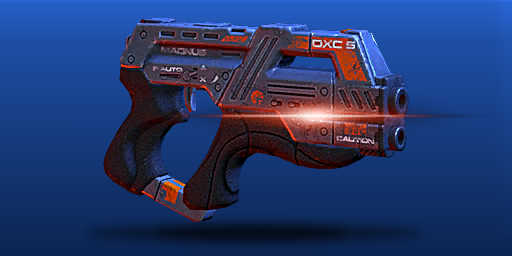 Turian Seventy Sixth Infantry Armour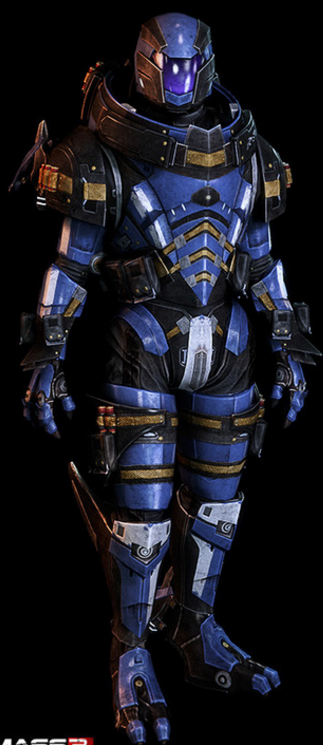 ThemesRelationshipsAdmired
|
Well-Respected / Exceptionally Good Friend
|
Friend
|
Acquaintance
|
Neutral
|
Mixed
|
Disliked
|
Particular or Strong Dislike
| † = Deceased
---
R. Arglack
: "I met this Krogan earlier today. He called that woman Hun though. I'm slightly cautious. But whether people fuck or not isn't in my list of cares. I wish to talk to him a bit more. I.. Uhh- We talked for a few minutes, I told him and another human, Fuhrn, about my sister. I've never opened up like that. It feels, weird. But I felt somehow better. Y'know, as better as you can be remembering watching Palaven under attack. He's a good man, Krogan, male guy. I guess we are friends, so to say."
Luminda
: "This is the girl that hangs around with Arglack, the two lovers. But eh. She's nice, can hold a conversation and seems interested in other race cultures. I guess I can call her a friend too."
Pip
: "The corporal who knows how to relax and have fun. Calls me Tiber. I actually like it. And I see a fast growing friendship happening."
Savannah
: "She was the girl I gave my Omni-tool to. I hope she is getting used to life on this ship. I may talk to her sometime, I'd like to know some more about her."
Octis
: "I met Octis the other day when I was in the bar, he happened to have very similar face tattoos like my own. I doubt we have ran into each other before. But nonetheless he is a Sergeant and a very capable one at that it seems. I would like to speak to him more."
Unknown female Turian
: "This girl seems to have a hate for a lot of things. I attempted to talk to her, try and make her feel not so alienated on this ship. But she doesn't want that. Well, can't do anything about that.
Journal
-None-
Post below if you want added.
Last edited by TheIrishGhost on Wed Apr 13, 2016 5:22 pm; edited 9 times in total



Posts

: 244


Join date

: 2015-07-27



Added voice sample, added consensus.

Ask to be added.
your favourite turian. <3



Posts

: 68


Join date

: 2015-07-24


Age

: 24


Location

: Uranus



Added a few people. I forget most people.

---
Permissions in this forum:
You
cannot
reply to topics in this forum